ABOUT THE AUTHOR

Dreck Spurlock Wilson, ASLA, NOMA

Dreck Spurlock Wilson, ASLA, NOMA is a graduate of Iowa State University and the University of Chicago. He was formerly an Associate Professor of Architectural History at Howard University and Lecturer in Landscape Architecture at Morgan State University.

Dreck is a licensed landscape architect and principal of Landscape Consortium, Ltd. in Washington, D.C. with design credit for the restoration of FLO's Jackson Park in Chicago, public R.O.W. Baltimore Inner Harbor, Carter G. Woodson Plaza, Washington, D.C., Wafa Wa Amal Hospital, Cairo, Egypt and King Faisal Military Cantonment, Khamyis Mushayat, Saudi Arabia.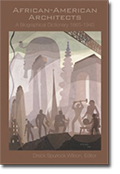 Dreck is the editor and contributing author of the Biographical Dictionary of African American Architects, 1865–1945, also published by Taylor & Francis, written by 100 experts ranging from architectural historians to archivists. This book contains 160 biographical, A-Z entries on African-American architects, landscape architects and civil engineers from Emancipation to the end of World War II.